The origins of the Transgender Rights Movement is a much disputed topic. Some would say that the Trans Rights Movement as a whole first began with the publication of Transvestia: The Journal of the American Society for Equality in Dress in 1952. However, this journal, which was launched by a male crossdresser named Virginia Prince, only had two issues and was never intended for public distribution.  So, while the publication of this journal did make waves within the trans community, it did little in terms of educating the general public or making a change on a grander scale.
The Compton's Cafeteria Riot, 1966
Then, in 1959 and 1966, there were two smaller riots at Cooper's Donuts and Compton's Cafeteria. Both places were restaurants in which members of the Trans community liked to hang out as they were located in mostly liberal cities (Cooper's Donuts in Los Angeles and Compton's Cafeteria in San Francisco). However, other patrons of the restaurants did not like being in close company with trans individuals and called the cops, who then tried to arrest the trans people. This prompted members of the LGBTQ community to throw food and drinks at the police and picket the restaurants in both cases. Both of these instances were small and locally contained. However, the Compton's Cafeteria riot was planned, unlike the Cooper's Donuts riot. During the Compton's Cafeteria riot, a local militant queer group was in charge of picketing the restaurant and burning a nearby newsstand. Furthermore, the Compton's Cafeteria riot helped create a safety network for trans individuals that was overseen by the San Francisco Police Department.
However, the largest riot, which is considered to have sparked the overarching LGBTQ movement, was the Stonewall Riot. Two trans women, Marsha P. Johnson and Sylvia Rivera, were instrumental in the success of the Stonewall riot. Sylvia Rivera in particular is said to have thrown one of the first bottles at police when the Stonewall Inn was raided. The Stonewall Riot is considered to be spontaneous and while it was the major lead-in to the Trans Rights Movement, it is clear that there were many events before it that helped contribute to the eventual forming of the movement.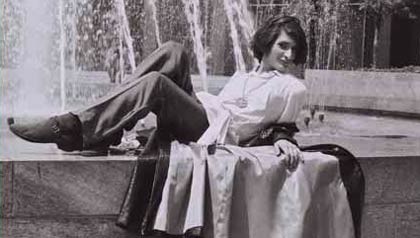 Sylvia Rivera, a trans woman involved in the Stonewall Riot
By Sylvie Nelson
Links Used:
Image Links: